1969 - Koncert zespołu Wreckage w Ealing College Of Art w Londynie.
setlista:
01. Cancer On My Mind
02. Vagabond Outcast
03. F.E.W.A
04. Without You
05. One More Train
06. Lover
07. Jailhouse Rock
08. Crossroads
09. 1983/Rain
10. We're Going Wrong
11. Communication Breakdown
12. Boogie
13. Universal Theme
14. Blag-A-Blues
15. Green
16. Rock Me Baby
17. Let Me Love You
1970
- Koncert Queen w legendarnym klubie Cavern.
1974
- Koncert Queen w Hanley.
setlista:
Procession, Now I'm Here, Ogre Battle, Father To Son, White Queen, Flick Of The Wrist, In The Lap Of The Gods, Killer Queen, The March Of The Black Queen, Bring Back That Leroy Brown, Son And Daughter, Keep Yourself Alive, Seven Seas Of Rhye, Liar, Stone Cold Crazy, In The Lap Of The Gods...Revisited, Big Spender, Modern Times Rock 'n' Roll, Jailhouse Rock, God Save The Queen
1978
- Koncert Queen w New Orleans w ramach trasy Jazz.
Po koncercie odbyło się sławetne PARTY w Fairmont Hotel.
http://www.queenlive.ca/queen/live%20pi ... rty_01.jpg
1983
- Wydano album Star Fleet Briana Maya.
1998
- Koncert Briana w Manchesterze w ramach promowania AW.
setlista:
http://www.queenconcerts.com/detail/aud ... er-uk.html
2003
- Brian na koncercie Def Leppard w Hemmersmith Apollo i wykonują Tie Your Mother Down.
2003
- Webchat w ramach 46664.com z udziałem Rogera.
2005
- Ukazuje się DVD Queen + Paul Rodgers Return Of The Champions.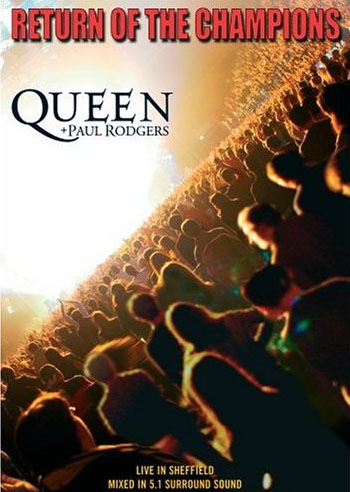 2008
- Koncert Q+PR w Pradze. Siostra Rogera zwiedza miasto.
setlista:
01. Intro: Cosmos Rockin' [tape]
02. Surf's Up... School's Out [intro tape only]
03. Hammer To Fall (fast version)
04. Tie Your Mother Down
05. Fat Bottomed Girls
06. Another One Bites The Dust
07. I Want It All
08. I Want To Break Free
09. C-lebrity
10. Surf's Up... School's Out
11. Seagull
12. Love Of My Life (Brian on vocals)
13. '39 (Brian on vocals)
14. Bass solo (Danny + Roger)
15. Drum Solo
16. I'm In Love With My Car (Roger on vocals)
17. A Kind Of Magic (Roger on vocals)
18. Say It's Not True (Roger, Brian and Paul on vocals)
19. Bad Company
20. We Believe
21. Guitar Solo
22. Bijou (Freddie's studio vocals)
23. Last Horizon
24. Radio Ga Ga
25. Crazy Little Thing Called Love
26. The Show Must Go On
27. Bohemian Rhapsody
28. Cosmos Rockin'
29. All Right Now
30. We Will Rock You
31. We Are The Champions
32. God Save The Queen